Mostar is a beautiful city in the southern part of Bosnia and Herzegovina, situated on the banks of the Neretva River. It is known for its stunning Ottoman-era architecture, picturesque bridges, and rich history. In this blog, we will delve into the history of Mostar, its safety, the best time to visit, where to stay, how to get there, and things to do in this fascinating city.
Mostar is a city with a long and fascinating history. It was founded in the 15th century by the Ottoman Turks and became an important trade centre between the east and the west. The city flourished under Ottoman rule and became known for its beautiful architecture and cultural heritage. In the 19th century, Mostar was annexed by the Austro-Hungarian Empire and became an important administrative and commercial centre.
---
---
The city played a significant role in the Bosnian War, which occurred in the 1990s. It was besieged for over a year, resulting in the destruction of much of the city's infrastructure and heritage. However, since then, Mostar has undergone a significant transformation, and its historic centre has been restored to its former glory.
Is Mostar Safe?
Mostar is generally a safe city for tourists. However, like any city, it is always advisable to take precautions and be aware of your surroundings, especially at night. Pickpocketing and theft can be a problem in crowded tourist areas, so it's best to keep an eye on your belongings.
What Region is Mostar in?
Mostar is located in the southern part of Bosnia and Herzegovina, a country in south-eastern Europe. It is situated on the banks of the Neretva River and is surrounded by the Dinaric Alps.
How Many Days in Mostar?
Mostar is a small city, but it has plenty of things to do and see. We recommend spending at least two days in Mostar to fully experience the city and its surroundings.
---
---
Where to Stay in Mostar?
Mostar has a range of accommodation options, including hotels, guesthouses, and apartments. The most popular area to stay in Mostar is the old town, as it is close to many of the city's main attractions. See some top recommendations listed below:
How to Visit Mostar?
Mostar is easily accessible by bus or train from other parts of Bosnia and Herzegovina and neighbouring countries. If you're traveling from Sarajevo, the journey takes around 2.5 hours by bus. The city also has an international airport, which is located around 7 km from the city centre.
---
What to Do in Mostar?
Mostar offers visitors a range of things to see and do, from exploring its historic old town to visiting nearby natural attractions. Here are some of the top things to do in Mostar:
Stari Most: Stari Most is Mostar's most famous landmark, and it is an impressive example of Ottoman architecture. The bridge spans the Neretva River and is a symbol of the city's cultural heritage.
Old Town: Mostar's old town is a UNESCO World Heritage site, and it is filled with historic buildings, cafes, and shops. Visitors can spend hours exploring the narrow streets and admiring the traditional Ottoman architecture.
Koski Mehmed Pasha Mosque: This beautiful mosque is one of Mostar's most iconic buildings, and it offers stunning views of the city and surrounding mountains.
Kravice Waterfalls: The Kravice Waterfalls are located around 40 km from Mostar and are a must-visit attraction. The falls cascade down a series of limestone cliffs, creating a stunning natural oasis that visitors can swim in and explore.
War Photo Exhibition: For those interested in learning more about Mostar's recent history, the War Photo Exhibition showcases images of the Bosnian War and its impact on the city and its people.
Blagaj Tekke: This 15th-century Dervish monastery is located around 12 km from Mostar and is a beautiful example of Ottoman architecture. Visitors can explore the monastery and enjoy a traditional Bosnian meal at one of the nearby restaurants.
Food and Drink: Mostar is known for its delicious Bosnian cuisine, which features a mix of Mediterranean and Middle Eastern flavors. Visitors can sample local specialties like cevapi, burek, and pita, and enjoy a cup of traditional Bosnian coffee in one of the city's many cafes.
In conclusion, Mostar is a fascinating city with a rich history and culture, and it offers visitors a range of things to see and do. Whether you're interested in exploring its historic old town, visiting nearby natural attractions, or learning more about the city's recent past, Mostar is a must-visit destination for any traveller to Bosnia and Herzegovina.
See more Mostar tips, advice and recommendations here!
---
---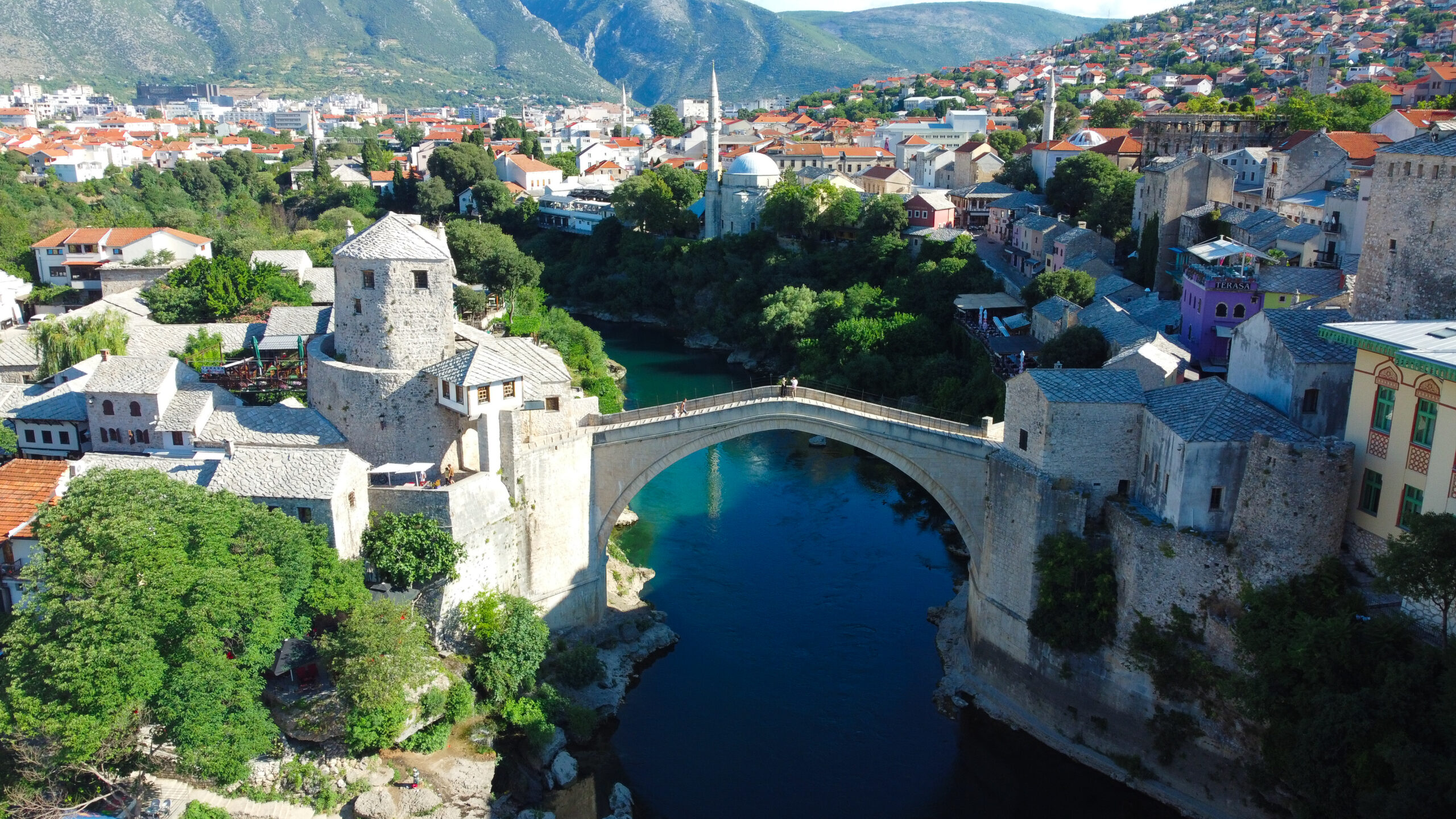 Please be aware that this post includes affiliate links. By using these links to make purchases or bookings, you won't incur any additional costs, but we may receive a small commission from the sale. This commission goes towards supporting the maintenance and upkeep of the site. This allows us to continue providing helpful and informative content. Thank you for your support!